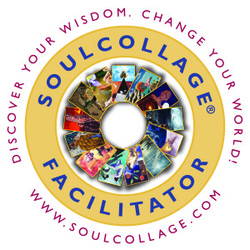 What's SoulCollage®?
Developed by Seena Frost, it's a creative process -- usually done in community -- that allows us to access our intuition, deep inner wisdom and healing. We create cards using images from magazines and other media that represent different aspects of ourselves so we can integrate their gifts and guidance. It's a way for each of us to tap into our own playful and wise self to find solutions to what is happening within us and in the world around us.
You might check out the
SoulCollage® website
and take a look at the introductory videos with Seena Frost talking about the process, power and purpose of the cards and deck.
From the website:
HOW to SoulCollage®?
Do you have a big pile of images you have saved in the closet or under the bed that you have been waiting to figure out what to do with? Following the simple SoulCollage® directions, your hands move fragments of cut-out magazine pictures around, fitting them together in a surprising new way and gluing them down on a card. Cards containing the images you select -- or the images that select you -- come straight through your Soul, bypassing the mind.

WHO Can SoulCollage®? Everyone!This is a multi-leveled, creative process which anyone can do. All you need is a good pair of scissors, pre-cut mat board cards, and images you can cut out from magazines, greeting cards, personal photos, postcards, catalogues, and calendars. You can do this work individually, but it is also wonderful to have other people with whom to share the process. The cards are fun to take to a friend's house, to work with in therapy or support groups, or to keep on your coffee table.A SoulCollage® Deck is the Story of You.
By Seena Frost,SoulCollage® Founder
"It is a tangible way to know yourself in your diversity and depth, and also to show yourself to others. Showing your deck of SoulCollage® cards to another person can be a profound experience. In like-spirited groups, you can share cards and work with them in many sacred ways. You can consult them intuitively and discover wisdom within yourself which will amaze you. Besides all this, creating them is just plain fun! You will love your deck -- a multi-card Mirror of your Self and your Soul -- whether it consists of three cards or a hundred." ~ Seena B. Frost
---

Saturday SoulCollage® Salon
Monthly community gatherings to create cards.

Join us for a monthly Saturday SoulCollage® Salon!

We'll gather every other month to make cards and create community from 1 to 3pm at my office (Integrative Counseling & Wellness), on 21st Street in Norfolk, VA, above the 80/20 Burger Bar.

If you're new to SoulCollage®, let me know and arrive by 12:30 for a quick introduction and some goodies to get you started! ($15 additional fee for instruction and supplies)

Here are the dates for 2017:
March 18
May 20
July 15
September 16
October 14 (at the American Theatre in Hampton!)
November 18

SoulCollage® is a fun way to work with images from magazines and other media to discover the ongoing "story of you." You select images that speak to you and create small, focused collages on 5"x7" or 5"x8" cards. The process can help nurture your personal, professional, and spiritual growth and enhance your well-being.

Using guided imagery, mediation and other prompts we will explore various aspects of the Self. Once we've created cards, we tune into the images for intuitive messages they hold. It's a powerful and fun creative process.

No artistic talent or experience needed.

In a relaxed and supportive atmosphere, you will spend time choosing images, assembling collages, composing reflective writing using a journaling technique and tapping into your intuition.

You can join us every month, come to a Saturday Salon every once in a while, or attend a single Saturday Salon to set aside sacred space to explore yourself and expand your SoulCollage® deck.

We'll have glue, scissors and some images on hand. Bring your cards and card-making supplies or purchase them from me. You're also welcome to bring snacks and drinks to share.

Cost is $20 per person. We meet from 1 to 3pm.


---
---
---
---

SoulCollage® Supply Pack
Retail price of this Card-Making Supply Pack is $16.95, saving you 8% off the cost of these items, if the items were bought separately. These packs are bundled at a reduced rate because of bulk pricing.
As a SoulCollage® Trained Facilitator, I am able to sell these DURING MY WORKSHOPS for $15 per pack.
Each Pack comes in its own packaging and contains:
o Card Pack - 12 / 8" x 5" quality blank mat board cards
o 24-pack of Clear Card Sleeves
o Pioneer Glue Stick
o FREE SoulCollage® logo pen.
o FREE SoulCollage® mini-frame. (Note: this frame has smaller outside dimensions than the
SoulCollage® Card Frame.)
---
---
---
---