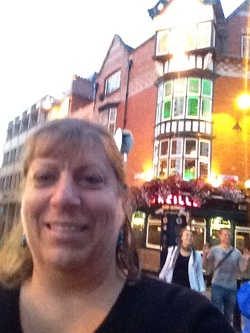 The Wabi Sabi Artist is...Suzan K. Thompson
My day jobs include private practice as a counselor as well as working as a trainer and consultant. I started my creative path by learning, then teaching clay jewelry-making at the studio-gallery
Craft Alliance
in St. Louis in the late 1980's. My teacher was
Marianne Baer
(thanks Marianne!) and I eventually did a little work for her in her own jewelry-making and clay studio, then filled in for her as an clay instructor.
I made clay jewelry, then turned to hand building in clay. (I never really liked throwing pots, though!) I would never have made it through my doctoral program without this creative outlet...
A few years later, a friend introduced me to the world of beads and I was off and running with making earrings and necklaces from glass and silver beads.
Even though I developed and taught a sampler class called, "Finding Your Creative Self" at places like
MOCA
and the former Ghent Studio of Fine Arts, I somehow never really saw myself as an
artist
.
I believe that everyone is creative -- most of us haven't had very safe places to grow into this part of ourselves, though. I considered myself a
creative person
for a long time, but only when I found out about the philosophy of Wabi Sabi in early 2011 was I able to truly declare:
I AM an artist
!
The three basic principles of Wabi Sabi are: Nothing lasts. Nothing is finished. Nothing is perfect.
I love to create sacred space for others to find their own wabi sabi artful spirit. Maybe YOU will rediscover yours soon...
I started my blog in August 2014 and write irregularly and imperfectly (!) about how wabi sabi shows up in my life:
http://wabisabidays.blogspot.com
Wabi Sabi Artist,
Suzan
---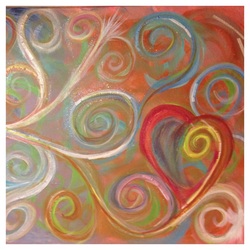 "When you realize how perfect everything is, you will tilt your head back and laugh at the sky." ~ Buddhist saying

In January, 2012, I was introduced to the Buddhist-derived Japanese philosophy, wabi sabi. The phrase has many definitions and interpretations, but the one that resonates most for me is by Robert Powell, who said, "[Wabi sabi] nurtures all that is authentic by acknowledging three simple realities: nothing lasts, nothing is finished and nothing is perfect." Add an element of finding the mystery and magic in everyday life and it's right up my alley in my creative work and what I seek in my daily life.

This Japanese art form of Wabi Sabi seeks to honor and celebrate the beauty and perfection in what's natural in pottery – drips, cracks, flaws and all -- as well as honoring what is authentic. I realized I was a creative person when I took a pottery class as I was in a doctoral program, continuing my education as a counselor. Handbuilding came naturally for me. I loved the process of creating a slab, cutting it to the shape I wanted and working quickly to form it. My instructor, seeing how well I was doing, urged me to spend time throwing on the wheel. The thing was, though, sitting at the pottery wheel, trying to form a pot was frustrating to me. And I already had enough frustration in my life from being a student in a doctoral program, so I chose to honor my own authentic urge to do what I enjoyed.

Nothing lasts. Even the most challenging events end at some point. To view life through a wabi sabi lens offers a perspective, a focus on gleaning something good from the messiness and imperfections of our experiences. Often I will start a creative project with something -- a very strong image -- in mind, but I can't seem to create it as I've seen it in my mind's eye. What I've learned is to use the internal inspiration as a starting point, allowing the project to unfold, rather than fight how it's manifesting itself.

So, what if WE learned to prize the imperfections, cracks and mistakes in our own messy lives and creativity? When I can remember (which requires a shift in awareness) that nothing is perfect AND those imperfections are actually beautiful reminders of just how HUMAN I really am, I feel more calm and at peace.

My wabi sabi message here is that life is full of irregularities – unexpected events – the ones that tend to be most challenging can offer the greatest sense of grace and beauty IF we take the time to shine the light of awareness on them. It is through the ongoing practice of wabi sabi that our lives can be filled with joy, wonder and authenticity.


Yours in Wabi Sabi Art,
Suzan

---