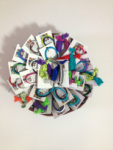 My newest creations: Hair Ties with Charms!

I have a variety of charms: dragonflies, turtle, acorns, leaves, dolphins, otters, mermaids, stars and MANY other charms to choose from.


These hair ties are like jewelry for your hair! And, when you're wearing them on your wrist, they are a fun bracelet.

If you purchased some from the first batch, there may be problems with the jump ring (that's the metal ring that attaches the charm to the elastic) bending and opening. If this happens, just send me your charm and hair tie and I'll fix it FREE of charge!

---
---
---
---
---
---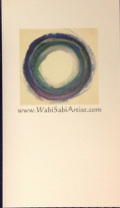 About my business card and logo
I painted the ENSO (circle) with water colors and a touch of sparkle. (I LOVE my sparkle!)
What's an enso?
From Wikipedia: "In
Zen Buddhism
, an
ensō
(
円
相
, "circle"
?
) is a circle that is hand-drawn in one or two uninhibited brushstrokes to express a moment when the mind is free to let the body create."
Symbolism of the CIRCLE:
The circle itself can represent the universe and everything in it. Circles suggest wholeness, power, perfection, healing, unity, completion and eternity. They are also universally connected to the practices of meditation, healing and prayer. It represents the beginning and the end.
---